*Neurological Imaging *Stereotactic Neurosurgery *Surgical Navigation
Vister3D is a new prototype of neurosurgical planning platforms for frame-based and frameless stereotactic interventions. Both interventions share the same diagnostic data, - and after archiving, the planning results can be involved in surgical preparation for a different technique. Vister3D offers an ease-of-use planning platform with a generalized solution for conventional arc-based stereotactic head frames:

•
•
•
and frameless navigation interface with Polaris type cameras manufactured by:
•

Moreover, the 3D transparency, provided by the software, facilitates accuracy comparisons of frame-based and frameless methods even during the same surgical intervention.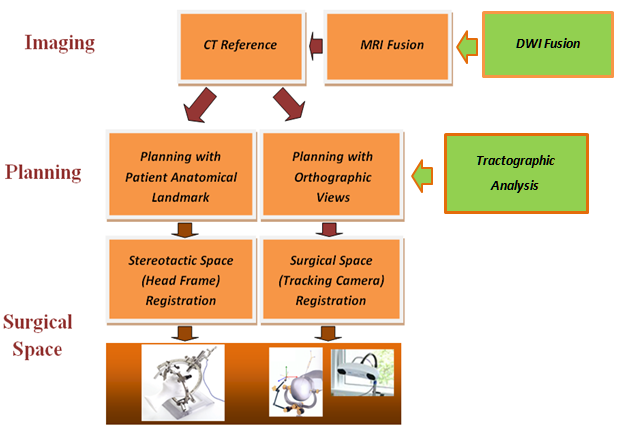 Preplanning is supplemented by DWI (diffusion weighted image) read in and DTI (diffusion tensor imaging) data visualization with GPU-hosted registration to patient MRI. Tractographic analysis can be performed with on-site merging of preregistered archive of fusioned MR and DTI data.

The system has been validated in different brain surgeries: DBS electrode implantology for Parkinson's disease, tumor biopsy or thermolaesio planning for head-arc, frame-based reference and craniotomy planning for frameless navigation to enhance ablating poorly accessible tumors. The modular architecture supports new feature extensions with immediate use in both methodologies. The complex tasks of adding DTI images and running fiber tractography is enhanced by optional backup of studies in compressed archive at different stages of planning.
• Patient data module for parsing DICOM data and archive studies from easily maintainable database to improve communication regarding diagnostics. Vister3D planning usually relies on three inputs:

reference CT (always needed);
fusion MR (to be registered with reference);
diffusion tensor imaging (DTI) data (optional for tractography, to be registered with fusion MR);



• CT-MR fusion module, targeting user selected subvolume with highly optimized fusion algorithm, aligns MR images to CT and visualizes results in orthographic planes;



• MR-DTI fusion module, register DWI gradient-weighted dataset to MR (using 0 b-value DTI map, as reference) with fast, CUDA-based algorithm. ADC (mean apparent diffusion coefficient) or FA (fractional anisotropy) maps can be fusioned/displayed with MR for diagnostic purposes;



• Tractography module, as planning supplement with automatic parsing of registered DTI data and ROIs positioned on anatomical images. Vister3D implements tractography both on original "raw" data and registered DTI data, as well. The unregistered approach relies on "one session" diagnostics with accurate scanner transform both for anatomical and DTI images;



• Planning module integrates all operations needed for frame-based or frameless stereotaxy. The calculations are strictly 3D-based that permits an exchange of planning outcome between different platforms. Some of frame-based systems are supported with calculations optimized for anatomical symmetry. Rotated mounting of frame is also possible using common marker set (Vister3D separates marker- and stereotactic spaces for generalized stereotaxy). Real-time feedback is added for errors in marker localization and during trajectory planning for coordinates in image volumes and anatomical spaces along with polar settings;



• Tracking/Navigation module in frameless mode: planning results are usable in optical navigation after surgical space is registered by fiducials. Different tracking modes can be initiated for imaging data using real-time 3D resampling with optional display of fiber models.


| | |
| --- | --- |
| Planning strategies in 3D | |
| Frame-based Interventions: | • 3D alignment planner to find the best representation of anatomy in imaging; |
| | • Rotated stereotaxy by means of separating marker and stereotactic spaces that helps to find generalized solution for stereotactic computation. Continuous error feedback is added during marker localization; |
| | • Biopsy planner represents one side planner for biopsy; |
| | • Two sides trajectory planner according to anatomical symmetry for DBS (for some frames constrained optimization is selectable to keep left/right mounting on the same arc); |
| | • Wide selection of models of DBS electrodes (for stimulation and multiply recordings), biopsy needle and TC (thermolaesio) electrodes; |
| | • Export protocols of head-arc settings for operating room and study file storing full dataset of planning. |
| | |
| | |
| Frameless Interventions: | • Orthographic trajectory planner with fusioned and different resampling views with optional data exchange with results of frame-based planning; |
| | • Frameless mode:Surgical space registration with fiducials or anatomical markers (comparative accuracy test with frame-based method is possible); |
| | • Stylus supported calibration module |
| | • Communication softwarewith Polaris family of motion tracking cameras. Communication with motion tracking cameras from Northern Digital Inc. is controlled by separate software which sets USB port connection. Configuration options can be added for sensor selection and parameters of data transfer.Back to modules |
Vister3D creates very flexible environment for surgical planning: the complex task of DTI registration to anatomic MR can be executed in preplanning step without using CT input. The results of this step are stored incompressed archive fileand can be inserted later into CT referenced stereotactic planning. Compressed archive studies can be generated and merged - with data integrity check - at different levels of calculation (after CT-MR fusion, stereotactic frame registration, trajectory planning, DTI fusion etc). Tractography can be performed not only during preplanning step but during on-site stereotactic planning, as well. The fiber models are exported to vtk file and can be imported later at any phase of planning. This improves the reliability of computations and creates a highly verifiable environment.
DBS planning study with tractography data fusion,video displays fiber distributions near electrodes implanted on both hemisphere (intercepts with seed plane is also shown). Different colors of nerve bundles represent changes in target volume ("include" ROI in cortex) (with courtesy of István Valálik MD., PhD. from Neurosurgery Dept., St.John Hospital, Budapest, Hungary) .(tract_DBS_video). Back to modules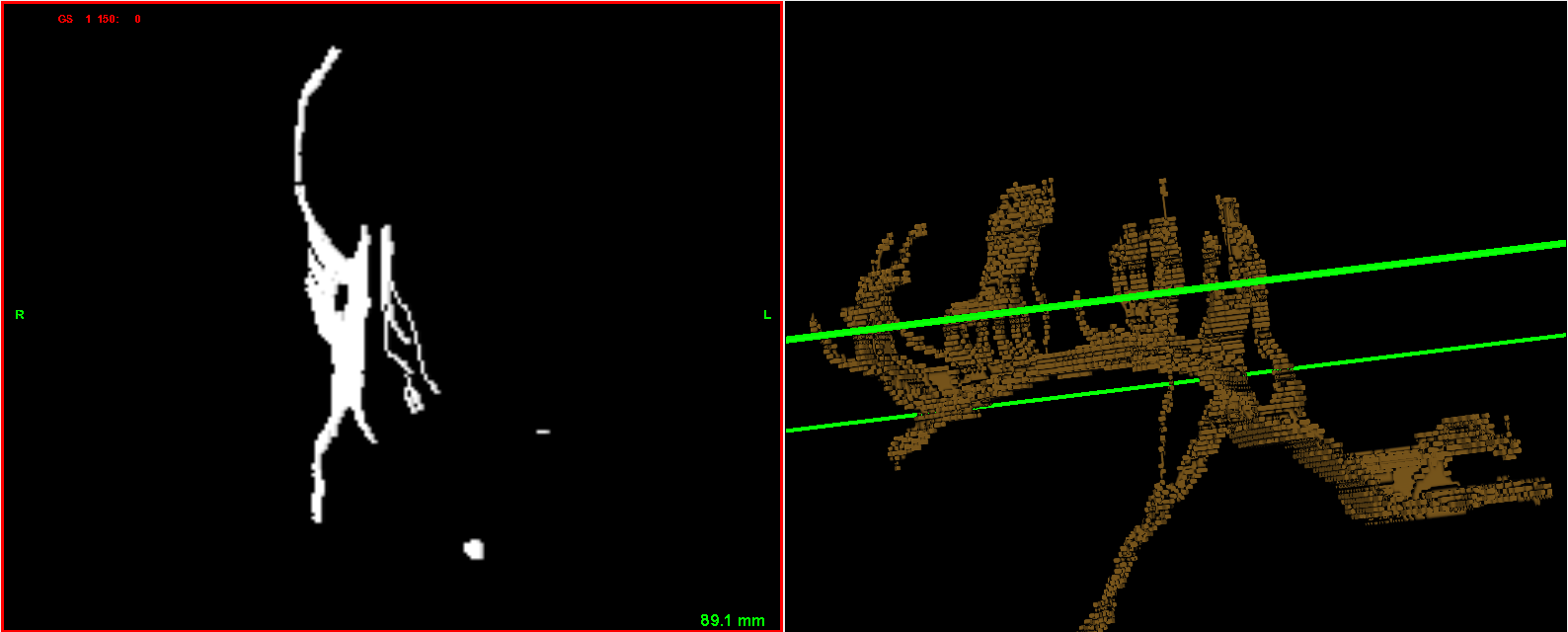 Upper view shows theinterpolated mask of fibermodel suitable for isosurface reconstruction (stored in nifti format). Lower view displays themesh archivestored in .stl file. Back to modules


SurgiFront Ltd. has been owned by Ferenc Pongrácz, Dr. and his son Ádám Pongrácz. After working several years at Yale University (New Haven, USA) on the field of computational neurobiology Ferenc Pongrácz joined in pioneering work for implementing new motion tracking technology into medical applications. He worked for company Artma Biomedical Inc. (located in Salt Lake City, USA) which later moved into Vienna, Austria. He has many years of experience in developing software for various clinical fields listed from human motion analysis, integration of navigated endoscopic view into diagnostics, surgical planning and drill navigation in dentistry and recently stereoactic planning and navigation in neurosurgery. The application has been introduced in routine surgeries with close supervision made by qualified surgeons at Neurosurgical Department of St. John Hospital, Budapest, Hungary. Vister3D has been also integrated into treatment of Parkinson's disease at private medical care (DBS surgery and other minimally invasive procedures like radiofrequency ablation etc...https://parkinson.hu/ and at Neuromed; https://neuromed.hu/). The software development has been supported by experts actively participating in open-source fields for medical applications. More info on related works: profile/Ferenc_Pongracz.


SurgiFRONT Ltd.

Budapest, Zerind Vezér u. 29/B
1029 Hungary
phones: (+36) 305621806, (+36) 12758615
Contact email: info@surgifront.com





Neurosurgical Department of St. John Hospital, Budapest, Hungary (http://www.janoskorhaz.hu/idegsebeszet.html)
Neuromed Private Care, Budapest, Hungary (https://neuromed.hu/)
M. Truppe, F. Pongracz, O. Ploder, A. Wagner, and R. Ewers, Interventional Video Tomography, in Proceedings of Lasers in Surgery, vol. 2395. San Jose, CA: SPIE, 1995, pp. 150-152.
W. Freysinger, M. Truppe, A. R. Gunkel, W. L. Thumfart, F. Pongracz, and J. Maierbaeuerl, Interactive telepresence and augmented reality in ENT surgery : Interventional Video Tomography, Lecture Notes in Computer Science • April 2006, (presented at CVRmed - MRCAS 97, Grenoble, 1997), 1205: 817-820.
Pongrácz F., Bárdosi Z. Dentition planning for image-guided implantology. In: Proceedings of CARS (Computer Assisted Radiology and Surgery), Eds: Lemke, HU et al. (Chicago, USA, International Congress Series 1268, 2004 ), pp: :1168-1173
Pongrácz F, Renner G. Localized volume matching for the detection of relative displacements in CT or MR images. In: Proceedings of CARS (Computer Assisted Radiology and Surgery), Eds: Lemke, HU et al. (Berlin, Germany, International Congress Series 1281, 2005), p.56-61.
Pongrácz F., Bárdosi Z. Proposal for prototyping applications for surgical navigation support. In: Int J CARS (Supplement 1 to CARS 2006, Osaka), Springer, Berlin Heidelberg New York, Eds: Lemke, HU et al. pp:185 -187.
Pongrácz, F., Bárdosi, Z. Dentition planning with image-based occlusion analysis. Int J CARS, Springer, Berlin Heidelberg New York, Eds: Lemke, HU et al., 2006, vol: 1 (3), pp:149 -156
Pongrácz F., Use of optical motion tracking in application development for surgical planning and navigation, Biomechanica Hungarica, 2008, Ed. Csernátony Z., vol: 1, No.1, pp:21-29.
Pongrácz, F. Visualization and Modelling in Dental Implantology (2009). in: "Handbook of Research on Dental Computing and Applications: Advanced Techniques for Clinical Dentistry: Chapter XI", IGI Publications 2009, Editor: A. DASKALAKI, Max Planck Institute, Berlin, pp:159-169 (see also: irma-international: Chapter 8.9 Visualization and Modelling in Dental Implantology (2009).
Pongrácz F., Fusion of video and motion data: engineering tasks and clinical applicability. Biomechanica Hungarica, 2010, Ed. Csernátony Z., vol: 3, No.1, pp: 201-207.
Pongrácz F., Video Tracking in Clinical Environment: Framework and Computational Elements. In: : Proceedings of the 1st International CIS Workshop at Budapest, Budapesti Műszaki Egyetem, june 18-23, 2011 (9).
Pongrácz F.; Keret nélküli (frameless) stereotaxia és navigációs rendszerek, 5.Fejezet. Valálik I. (Szerk.), Stereotaxiás és funkcionális idegsebészet (Akadémiai Kiadó, Budapest, 2012, 627 old): 75-100. (in hungarian).
Pongrácz F., Valálik I.; Common Platform for Evaluating Frame- Based and Frameless Stereotactic Surgery, XXth Congress of the European Society for Stereotactic and Functional Neurosurgery, Cascais/Lisbon, Portugal; 09/2012
Pongrácz F., Valálik I.; Common IGS planning, support for frame-based stereotaxy and frameless navigation. 3rd National Conference of Neuro-Oncology, Cluj-Napoca (Kolozsvár), Rumania; 04/2013
Pongrácz F.; Visualization and Modelling in Dental Implantology. 33. Hellenic Dental Congress, Athens, 2013, Greece; 11/2013
Valálik I., Pongrácz F., Csókay A.; Technique and planning software for stereotactic brainstem and basal ganglia biopsies. XXIst Congress of the European Society for Stereotactic and Functional Neurosurgery, Maastricht, the Netherlands; 09/2014
Pongrácz F., Szloboda P., Valálik I.; Fiber tractography and brain atlas integration in stereotactic planning: improving interactivity with multithreaded and CUDA-based solutions. XXII Congress of the European Society for Stereotactic and Functional Neurosurgery, Madrid, Spain; 09/2016


Pongrácz F., Szloboda P., Valálik I.; Traktográfiai analízis és atlasz fúzió sztereotaxiás tervezéshez: interaktív módszerek felhasználási lehetőségei. Magyar Idegsebészeti Társaság és a Magyar Neuroonkológiai Társaság Kongresszusa, At Miskolc - Lillafüred, 2016


Pongrácz F., Szloboda P., Valálik I.; Tractography in frame-based and frameless stereotaxy: surgical integration with preplanning and archiving supports. XXIII Congress of ESSFN Edinburgh, 26 sept-29 sept, 2018